St. John of Shanghai & San Francisco Brotherhood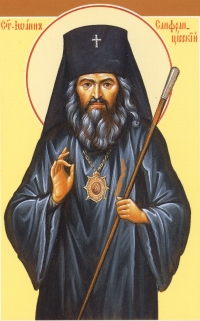 Welcome to the web site of the St. John of Shanghai & San Francisco Brotherhood of St. Vladimir Church in Ann Arbor, MI!
Our Brotherhood was formed with the blessing of Archimandrite (now Bishop of Cleveland) Peter, Administrator of the Diocese of Chicago & Detroit on February 2, 2003. Our Brotherhood exists to support the Mission of St. Vladimir Church, namely "It shall be the aim of the parish to unite the believers around the parish church on the basis of the teachings, the canons, the traditions and the rules of the Russian Orthodox Church for the satisfaction of the religious need and moral benefit of its members." In addition, we strive, along with the rest of our Parish Family, to spread the Orthodox Faith to those living in Washtenaw County, MI.
The Brotherhood provides the opportunity for the men of our parish to interact socially in a positive way as they support the parish and its goals and institutions. Specifically, the Brotherhood fulfills a list of duties before the weekly Divine Liturgy. These duties are shared by all brothers on a rotating basis. The schedule for the present month is found here.
Additional duties of the Brotherhood revolve specifically around the Divine Services (bearing the banners at Cross Processions, aiding the believers in finding space in the church, a place for their coats, helping with parking, providing rides for those without transportation, etc.) and the maintenance of the Church (repairs, special projects both inside and outside the church). The Brotherhood sponsors work days at the Church for all St. Vladimir's parishioners and friends on a regular basis. The Brotherhood also supports our Sisterhood in their work, and performs many duties on an ad hoc basis. Finally, the Brotherhood has fun! Join us and see! Yearly dues are nominal ($50) and are used to help pay for Brotherhood activities and projects.
To learn more, please contact one of the officers of the Brotherhood listed below:
John Hill, Head of the Brotherhood (headbrother@stvladimiraami.org) Vadym Pirozhenko, Treasurer (headbrother@stvladimiraami.org)
Statutes of Incorporation of the St. John of Shanghai & San Francisco Brotherhood of St. Vladimir Church
More information about our heavenly patron, St. John of Shanghai & San Francisco can be found below. The feast of St. John is celebrated on the day established by the Council of Bishops of the Russian Orthodox Church Outside of Russia, namely, the Saturday nearest his repose (June 19/July 2). All members of the Brotherhood are strongly encouraged to participate in the feast day of their heavenly patron by partaking of the sacraments of Confession & Communion on the feast day itself.
Life of St. John - English
Life of St. John - Russian
Prayer to St. John of Shanghai & San Francisco (English & Russian)